Gabriele Beveridge (b. 1985, Hong Kong) lives and works in London.
Beveridge's materials frequently derive from sites of commerce, particularly those where we prepare and process our bodies, or more accurately where we pay others to perform labour on our surfaces. Display and presentation are persistent themes throughout the practice. Beveridge includes found photographic imagery, cropped posters and promotional material found in hair and nail salons, alongside photograms, glass and other natural materials.
Recent solo and two person exhibitions include Great Pretender at Kai Art Center (2021), Live Dead World at Seventeen (2018-19) Soft Shrinking Tremor at Parisian Laundry, Montreal (2017), Eternity Anyways at Chewday's, London (2016), Mainland at MOT, Brussels (2015), Health and Strength at La Salle de Bains, Lyon and Gold Diamond Park at Elizabeth Dee, New York (2014). Seventeen presented a solo exhibit by Gabriele Beveridge at LISTE Art Fair, Basel in June 2022.
Biography
Seventeen Exhibitions
Packed Stars Dividing
Live Dead World
Echoes of the Ornamental Garden
Press
Contemporary Art Society
Frieze
Art Forum
The White Review
200% 
Gabriele Beveridge, Fountain, 2021
Hand-blown glass, shop tie tiers, rope, 90 x 80 x 80 cm
Gabriele Beveridge, Under Falls of Air, 2022
Polyurethane paint, steel shop fittings, 240 x 497 x 3.5 cm
Gabriele Beveridge, Installation view of Packed Stars Dividing, Seventeen, London
Gabriele Beveridge, Installation view of Packed Stars Dividing, Seventeen, London
Gabriele Beveridge, Single Cells, 2022
Hand-blown glass, steel hooks, polyurethane paint, shop fittings, 120 x 120 x 42 cm
Gabriele Beveridge, Nest, 2021
Hand-blown glass, glass shop fittings, 150 x 150 x 150 cm
Gabriele Beveridge, Clouds, 2018, installation view
Gabriele Beveridge, Superposition III, 2021
Shop-fittings, crystal balls, frame, 121 x 119 x 25 cm
Gabriele Beveridge, Thin Air, 2021
Chromed mannequin legs, hand-blown glass 100 x 50 x 65 cm
Gabriele Beveridge, Burning Like Smoke, 2021
Photo emulsion, darkroom chemicals and varnish on sprayed shop-fittings, 100 x 50 x 5cm
Gabriele Beveridge, Cosmetic Universals Choke, 2020
Freehand glass, photogram, frame, 35 x 26 x 8cm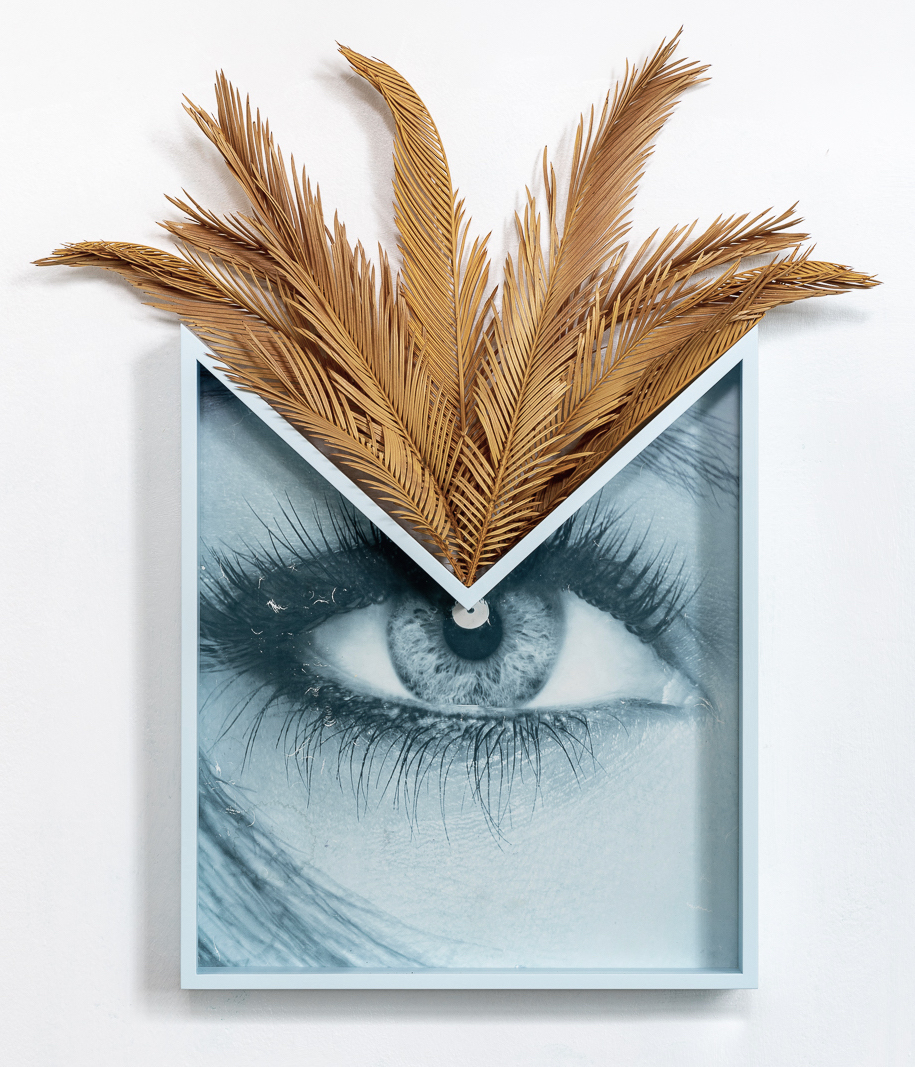 Gabriele Beveridge, Fountain of Lashes, 2020
Found sun-faded poster, dried cycad leaves, custom-made frame, 62 x 50 x 8cm
Gabriele Beveridge,
Orbit
, 2021
Synthetic hair extensions, wood, satin varnish, 75 x 75 x 15 cm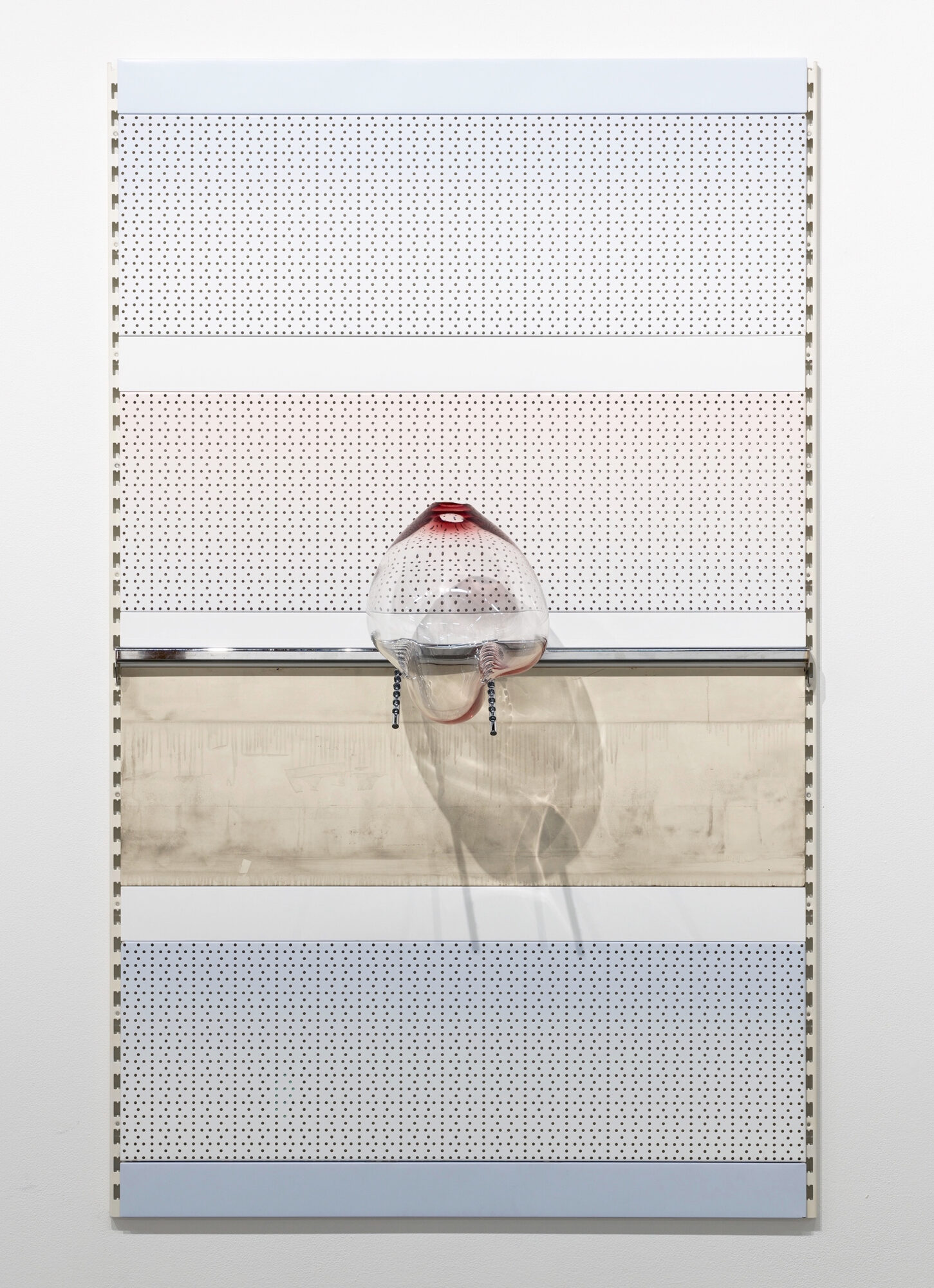 Gabriele Beveridge, Petrol Electric Light, 2020
Hand-blown glass powder-coated shop panels found shop panels, 200 x 120 x 45cm
Gabriele Beveridge, High Pink, 2021
Hand-blown glass, chrome shop fittings, 140 x 70 x 50cm
Gabriele Beveridge, Prophetic Souls VI, 2018
Hand-blown glass, chrome shop fittings, 200 x 102 x 53cm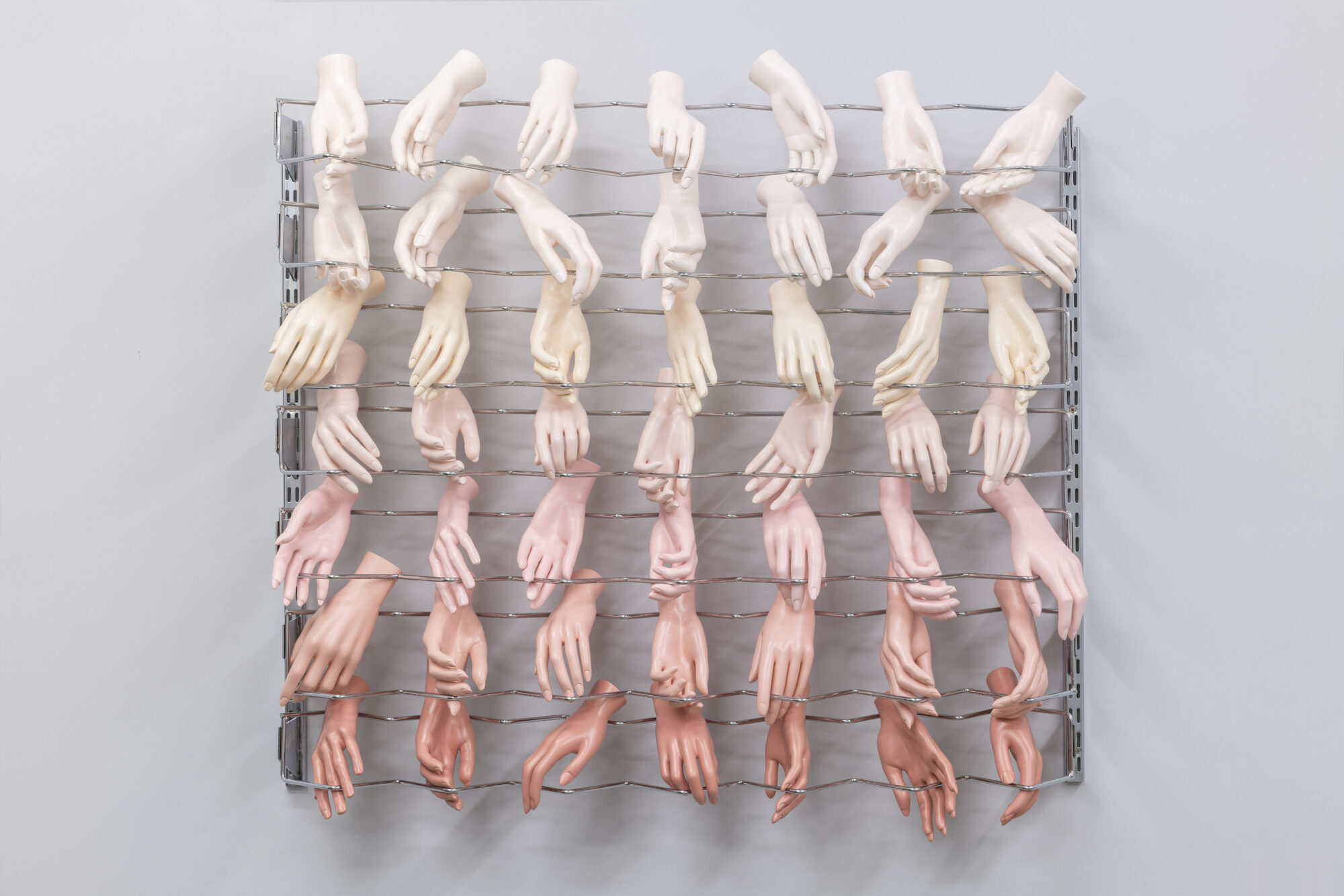 Gabriele Beveridge, Memorial, 2018
Mannequin hands, chrome shoe racks, 96 x 103 x 23 cm
Gabriele Beveridge, Skin for either one, 2018
Found poster, granite, artist frame, 50 x 83 x 7.5 cm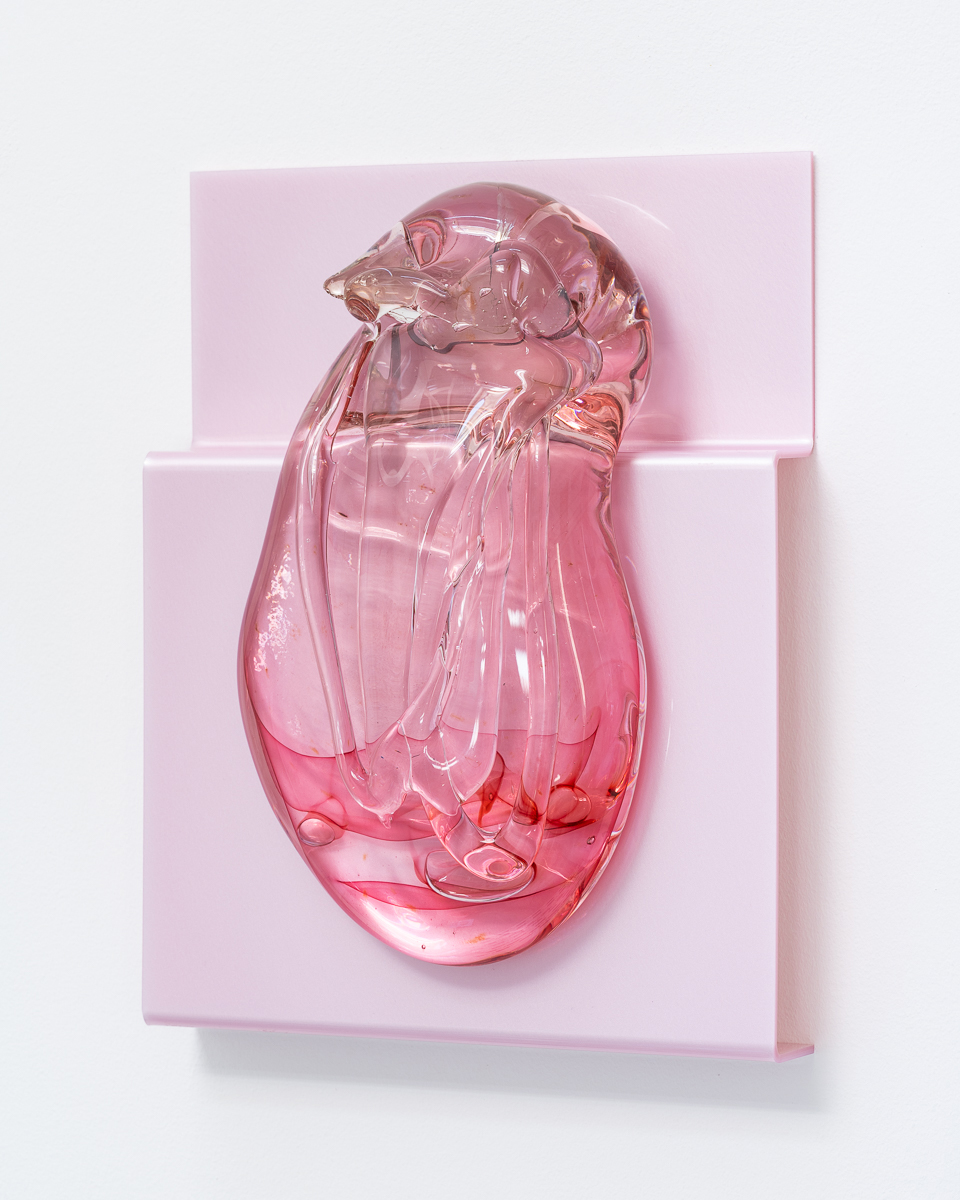 Gabriele Beveridge, Odd Mercy, 2021
Freehand glass, acrylic sheet, 26 x 33 x 10 cm
Gabriele Beveridge, Petrol Electric Light, 2019, detail view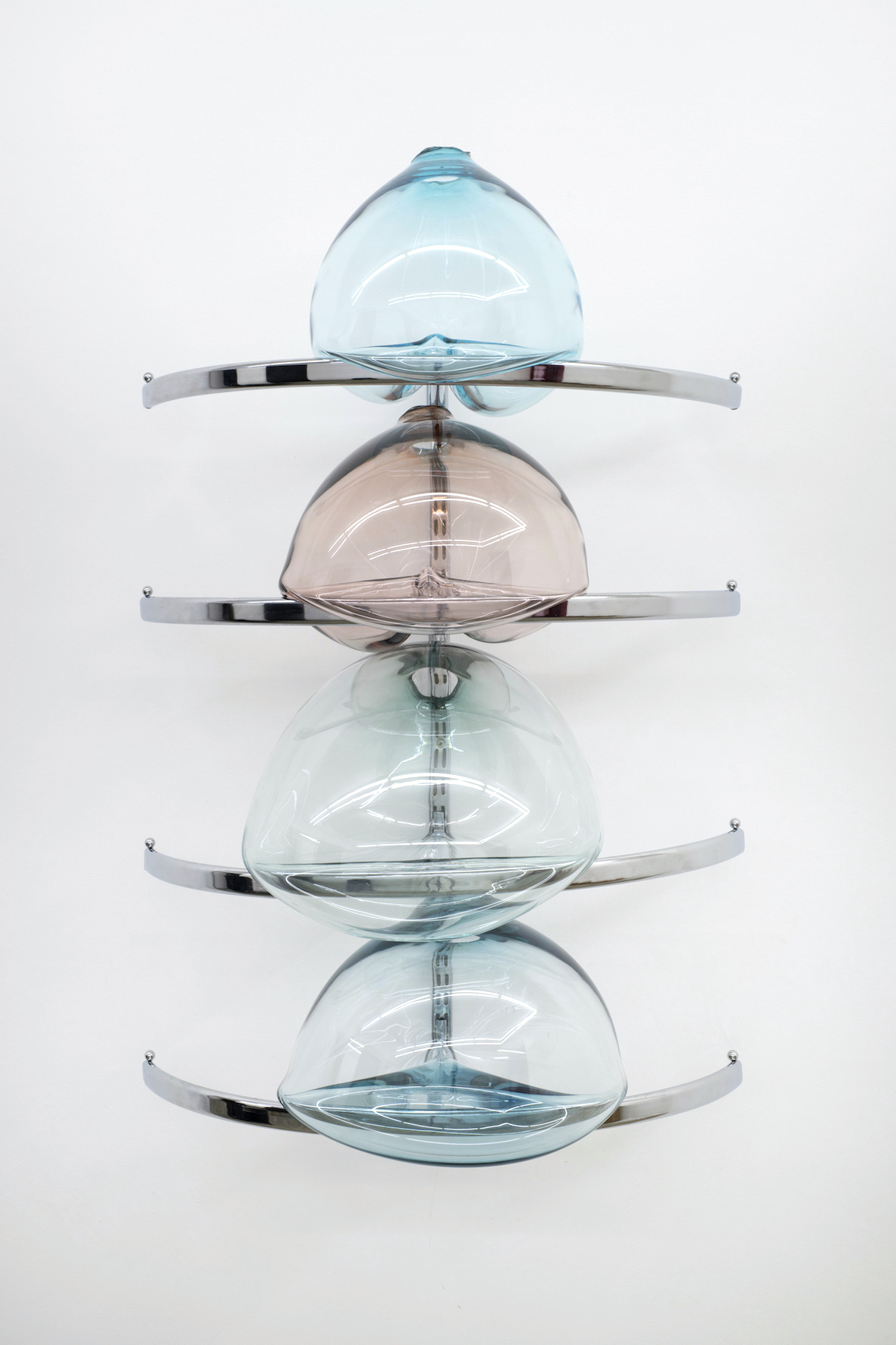 Gabriele Beveridge, Spine through the guts II, 2019
Hand blown glass, chromed steel shop fittings, 129 x 70 x 42 cm
Gabriele Beveridge, Installation view of Great Pretender, Kai Art Center, Tallinn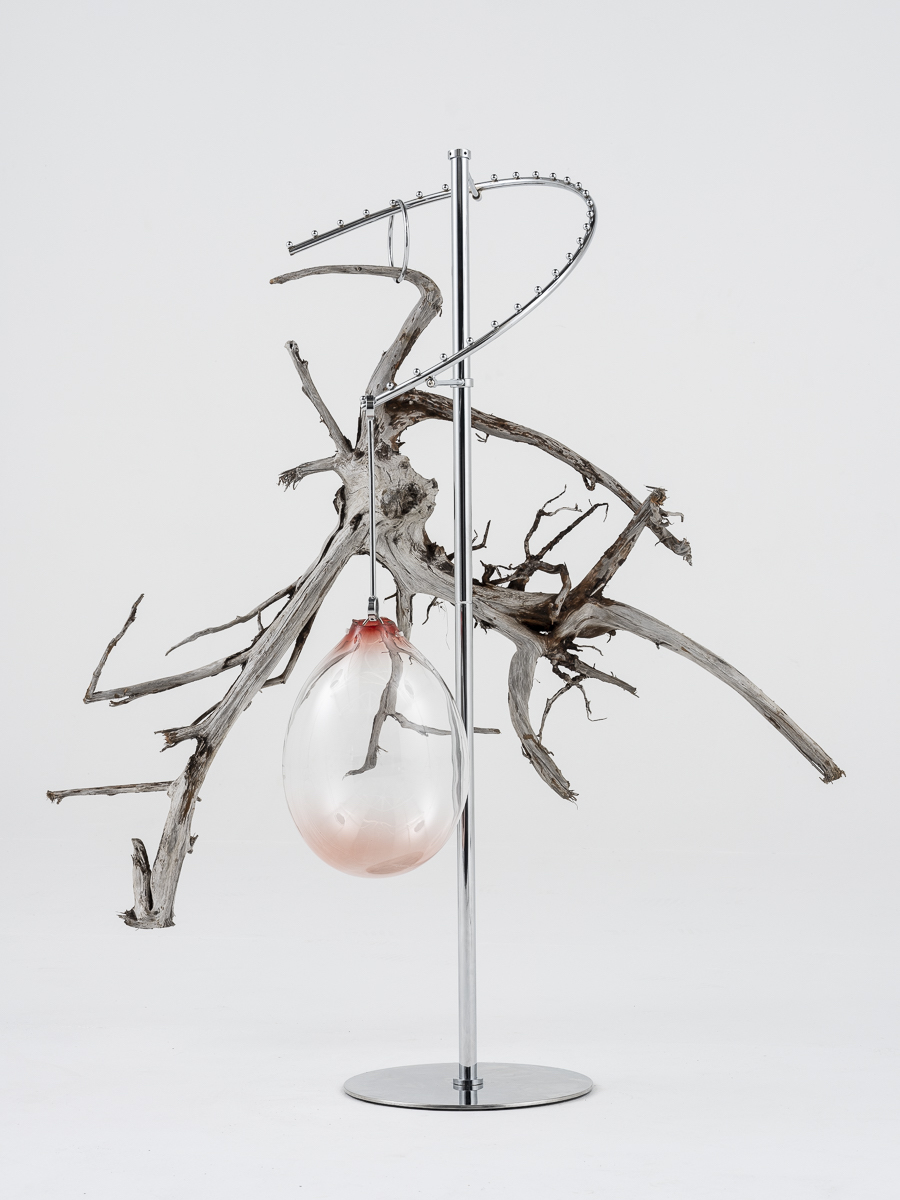 Gabriele Beveridge, Tomorrow's Lover, 2020
Driftwood, hand-blown glass, chrome shop stand, 175 x 130 x 130cm
Gabriele Beveridge, Installation view of Live Dead World, Seventeen, London