31
st
January – 24
th
February 2007
This series of landscape paintings by Shay Kun draws heavily on a very specific historic period and location, namely the Hudson River School of the 19th century. Kun's landscapes particularly reference Thomas Cole's (1801-1848) reverent paeans to nature and Albert Bierstadt's (1830-1902) towering Yosemite cliff faces, awestruck visions of the sublime in the American West. Both artists focused on idealized pastoral landscapes, whose romanticism is evident in the synthetic composition, and held values that were rapidly dismissed and out of fashion even in their own lifetime.
Kun's works, however, denote their cultural position with the addition of interlopers in the scenery. Applied in acrylic as opposed to the oil background, the inserts are not only out of place and out of scale, but they are moreover out of context, geographically and/or socially.
Pristine vistas are blighted by tightropes, flagpoles, killer-whales and evidence of contemporary human presence; battleships, estate cars and frogmen. The contrast between these contemporary figures and their stylized and specifically dated environment is abrupt, but despite this, they're an almost offensively inadequate substitute for the deities or characters of noble bearing that filled their place in painting of the past centuries. The cut and paste figures seem oddly pathetic, and while their jarring absurdity echoes the Knights and maidens in Thomas Cole's Gothic fantasies The Departure, 1837 and The Return, 1837, their modernity somehow fails to match their romanticized predecessors' august and worthy outlook.
The works, however, remain open-ended as Kun's almost contradictory decision to paint the landscapes himself rather than appropriate or collage onto existing images, implies a degree of sincerity, even a perpetuation or celebration of the Hudson Valley School. If this much love, labour and effort is employed in the production of these landscapes, perhaps the re-presentation of these aesthetics might be justified beyond any ironic nod to the fickle cycles of art history. 
Shay Kun lives and works in New York.
Shay Kun,
Abandoned
, 2006
Acrylic and oil on canvas
20 x 24 inches
Shay Kun,
Outburst
, 2006
Acrylic and oil paint on canvas
36 x 48 in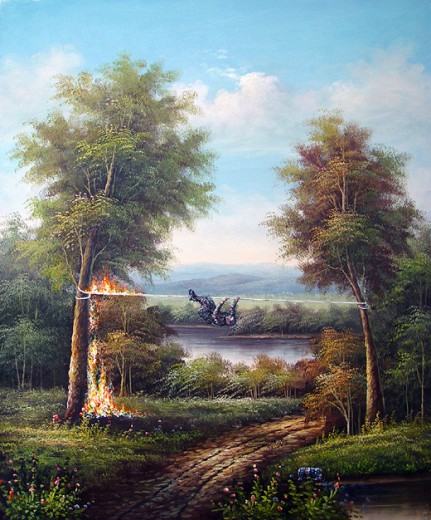 Shay Kun, Study for
'Drills', 2006
Acrylic and oil on canvas
24 x 20 inches