29
th
March – 5
th
April 2012
Curated by Attilia Fattori Franchini
Pascual Sisto's practice often refers to chaotic systems, order, time and evanescence; his work reproduces the transient order of things by manifesting its multiple variables.
In FILL_IN_THE_BLANKS, his first show at Seventeen, the LA based artist presents his recent exploration of forms of representation through the use of mathematical structures, patterns, and digital interventions, while repurposing the imagery and modus operandi from the realm of theoretical physics.
The new body of work introduces a tension between constraint and infinity, matter and ephemerality, reality and fiction, featuring a melancholic sense of humor. New 3D animations and sculptures are presented in unison, functioning as hypnotic elements and forces of attraction in the creation of non-spaces.
By containing and restricting forms through additive and reductive gestures, Sisto's practice reconfigures the idea of endless possibilities. The video elements in the exhibition constitute a passage between Sisto's previous and current production and represent ethereal realities conversely focusing on the versatility of time, stressing it while defining it through either interruption, synchronicity, or pulsation and perpetually transfixed into a liminal space.
This exhibition is made possible by the generous support of the Center for Cultural Innovation ARC Grant.
Pascual Sisto was born in 1975 in Barcelona, Spain, and lives and works in Los Angeles.
Pascual Sisto, 
28 Years in the Implicate Order
, 2005
Single channel video, looped
Pascual Sisto, 
Circling the Drain (Green)
, 2012
Single channel 3D animation
Pascal Sisto, 
No Strings Attached, 
2007
Single channel video, looped
Installation view, 2012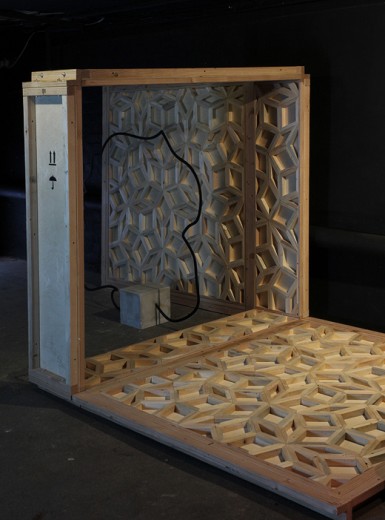 Installation view, 2012
Pascual Sisto,
Peripheral Selection
, 2012
Powder coated steel and concrete
122 x 114 x 20 cm
Pascual Sisto,
Circling the Drain (Cosmic Latte)
, 2012
Single channel 3D animation
Pascual Sisto, Untitled (crate), 2012 
Wood
147 x 147 x 50 cm