13
th
April – 4
th
June 2011
There is an argument that contends that we only really become sensitive to a given object's characteristics – its truth – when it is no longer able to perform its prescribed function. According to this logic, the hammerness of a hammer becomes most apparent when we see it lying unused and broken – without a head or snapped by the stem. 
Kate Owens questions the possibility that a break, mark, glitch or rip offers a kind of conceptual freedom to an object. In this new series of works, Owens intertwines objects and materials, testing the properties of one item with the willfully incompatible properties of another, to create moments of unexpected consequence. These combinations push objects to the limit of their functionality in order to reveal their core attributes or weaknesses.
Liberated from prescribed use, Owen's objects are afforded the possibility of becoming something else, of doing something else. Thus we encounter her work in the transient state it creates for itself, in the superficial – yet acutely pure and present – way in which it simply is.
A new publication by Kate Owens, Early Works, will be launched to coincide with this exhibition
_____________
Kate Owens (b.1979, Scotland) gained her BA Painting from Edinburgh College of Art in 2002 and MA Sculpture from Royal College of Art in 2008. Recent exhibitions include a solo show at Dicksmith Gallery, London in 2009 and group shows at Galleria Tiziana di Caro, Italy, Jancar Jones Gallery, San Francisco and Altogether Elsewhere, curated by Rob Tufnell at Zoo Art Fair 2009. 
Kim Coleman and Jenny Hogarth gained BAs at Edinburgh College of Art (2001 and 2000 respectively) and MA's at Chelsea College of Art & Design (2007) and Glasgow School of Art (2009). Recent solo projects include commissions for the Serpentine Gallery's CINACT programme in 2010, Edinburgh Art Festival EXPO fund, 2010, Glasgow International Festival of Visual Art Open Glasgow programme in 2010, Frieze Projects 2009 at Frieze Art Fair and S1Artspace, Sheffield in 2009.
We would like to thank Sam Thomasson at Fieldmount Terrazo Ltd for his kind support.
Kate Owens, Installation View, 2011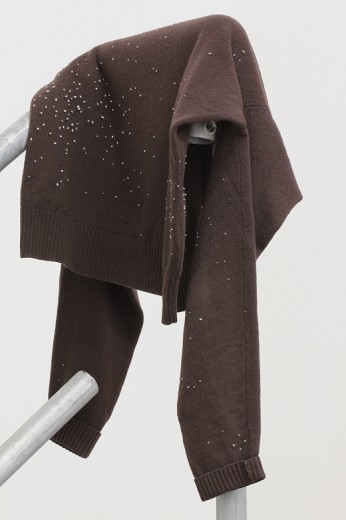 Kate Owens, 
Portrait II
, 2011
Wool, enamel paint
42 x 50 x 6 cm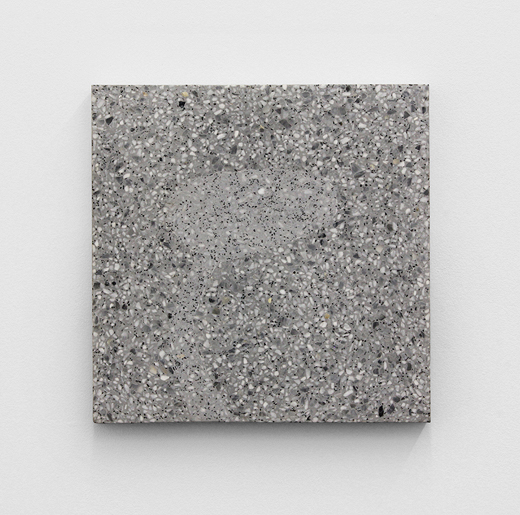 Kate Owens,
The Lies III
, 2011
Cement, marble aggregate
30.5 x 30.5 x 2.8 cm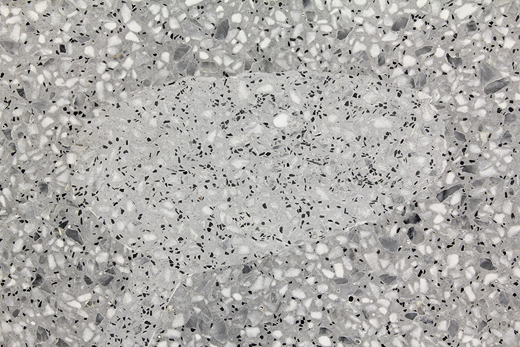 Kate Owens,
The Lies III
(detail), 2011
Cement, marble aggregate
30.5 x 30.5 x 2.8 cm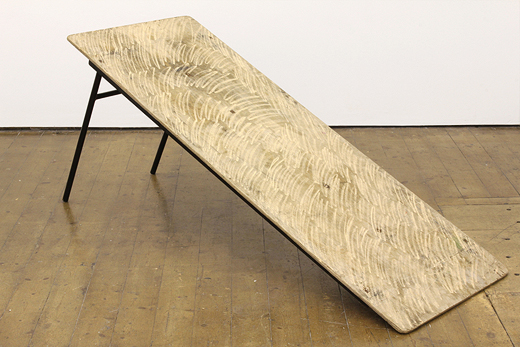 Kate Owens, 
Mean (6ft trestle)
, 2011
Hired function table, chalk
77 x 68 x 188 cm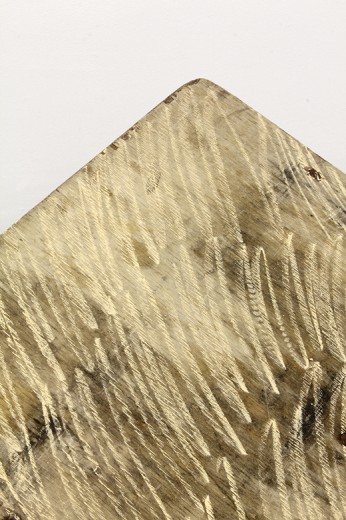 Kate Owens, 
Mean [6ft trestle]
, 2011 (detail)
Hired function table, chalk
77 x 68 x 188 cm
Kate Owens,
 Low Memory II & III
, 2011
Watercolour on waterproof fabric
233 x 180 cm
Kate Owens, 
Good News
, 2011
Paper, tape
64 x 140 cm
Kate Owens, 
The Lies I
, 2011
Cement, marble aggregate
30.5 x 30.5 x 2.8 cm
Kate Owens, 
The Lies II
, 2011
Cement, marble aggregate
14 x 30 x 2 cm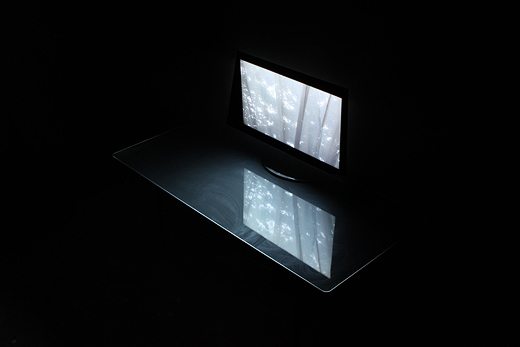 Kim Coleman & Jenny Hogarth, 
Act Natural (Mineral Water)
, 2008
Single channel video, monitor, table top
145 x 189 x 89.5 cm
Kate Owens, 
Early Works
, 2011
Bookwork, edition of 8, published by Seventeen
Kate Owens, 
Early Works
, 2011
Bookwork, edition of 8, published by Seventeen