18
th
October – 25
th
November 2006
Working directly onto ready-made objects, such as vinyl records, album sleeves, and other music industry ephemera, Graham Dolphin arduously scratches passages of minute, immaculate text into their surfaces. The text is a transcription of lyrics by that particular recording artist, perhaps just a few songs or as much as their entire back catalogue.
Dolphin's practice involves meticulous manipulation of the ready-made, in particular mass produced and culturally loaded instruments. As Dolphin performs his intense acts of endurance, he defaces and destroys these objects as products, creating a new thing, with another set of fetishes and another set of rules. The scratched record is removed from circulation and broken, and simultaneously re-circulated and re-made.
The album covers are bent and bear the signs of familiar handling over years, and this suggests an intimacy with the artist; these are objects that have been owned, used, treasured. Dolphin's choice of record at first seems a list of his own personal collection, until you come across four identical pressings of say, The Beatles, Help, reminding the viewer that these ready-mades are commercial, mass-produced multiples. Any history or narrative created by the specific choice of title is a false-hood and that the artist's obsessive addition to these objects is one step removed. The works speak about obsession and idolization but don't partake of it.
Dolphin's hermetic, punitive practice uses displays of endurance and skill throughout. Previous works such as Every word in Vogue, 2004 (text drawing) and 1500 Images of Kate Moss in 60 Seconds, 2001 (video installation) have utilized other culturally loaded devices such as magazines and catwalk runways that inspire similar obsession and idolization.
A catalogue accompanies this show with text by Nick de Ville and Bill Drummond. Thirty-three catalogues will contain a vinyl pressing of a sound work by Dolphin, titled 1440 Tears. The work is comprised of a sound collage of 15 cover versions of the 1960's song 96 Tears by ? and the Mysterians, with an etched picture disk verso.
This exhibition has been generously supported by The Arts Council.
Graham Dolphin,
70 Sonic Youth Songs
, 2006
Scratched poster
150 x 101cm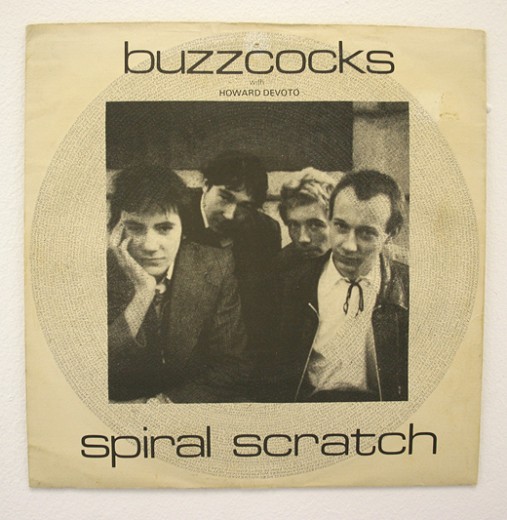 Graham Dolphin,
17 Buzzcocks Songs
, 2006
Pencil on record sleeve
18cm dia
Graham Dolphin,
30 Kraftwerk Songs
, 2006
Ink on cassette tape
Dimensions variable
Graham Dolphin,
70 Sonic Youth Songs
, 2006 (detail)
Graham Dolphin,
Madonna's Eyes and 18 Sonic Youth Songs
, 2006
Scratched record
12 inch dia