15
th
 October – 6
th
 December 2014
Rachal Bradley
Marie Lund
Hannah Weinberger
Curated by Ellen Greig
A picture is no substitute for anything: his gesture moved us to tears.1
To consider a possible substitute for a picture is to acknowledge the missing elements of a represented moment. A Picture is No Substitute is a group exhibition that places an onus on the structural surround of the represented, where acts of removal, intentional absence and obstruction are as equally important as the palpable. Bringing together works by Rachal Bradley, Marie Lund and Hannah Weinberger the exhibition meditates on a repudiation of authorship, and an acknowledgement of absence and half-finished stories within modes of representation, production and exchange.
For this exhibition, Rachal Bradley retrofits her ongoing series Dog Beneath the Skin, where the physical weight from layers of image production collapse into the support structure of the domestic Housewife pillow. MEGA- dérive (black and white version) 2014, considers the embedded steel etching plate as a substrate and vehicle for the etchings of the artist's brick walls. In turn, this process yields and obstructs the possibilities for further image production, ultimately reducing the picture to citation.
Maria Lund's constellation of works reel absence out, and delineates immateriality as form. The Very White Marbles, 2014, acknowledges the objects missing elements, where the surface that once defined the object as an identifiable thing is removed, leaving an abstracted memory of what was once seen. Casts, 2013, takes their form from the voids of insides of plaster-cast copies of ancient Hellenistic and Roman sculptures from The Royal Danish Cast Collection. Removed from the original source, these works embody traces of their origin, and in doing so demarcate layers of exchange and production.
The sound of a running tap, flowing cascades, drips and splashes chime together with other familiar background sounds taken from open-source distribution channels, occasional drum beat demos and the artists own field recordings, forming the sonic element of Hannah Weinberger's, Hi, 2013. Like a music score removed from a moving image, Wienberger's editorial approach builds textured sound waves into sculptural, material space – defining sonic experience in relation to visual experience, virtual space in relation to reality. Hi will travel throughout the exhibition space over the course of the show.
1 A Picture Is No Substitute for Anything was a sporadic collaboration between Louise Lawler and Sherrie Levine, from (1981–2). In keeping with Lawler and Levine's own interest in reference and appropriation, the artists adapted this phrase from a statement made by Hollis Frampton to Carl Andre, "a photograph is no substitute for anything", published in 12 Dialogues, 1962-1963. 
Hannah Weinberger
Hi
, 2013
Audio file (looped), white curtain, speakers, Avenger stands
16:46 minutes
Hannah Weinberger
Hi
, 2013
Audio file (looped), white curtain, speakers, Avenger stands
16:46 minutes
Installation view, 2014
Rachal Bradley
MEGA-dérive (black and white version),
2014
Photo-etchings, housewife pillows, steel etching plates
Dimensions variable
Detail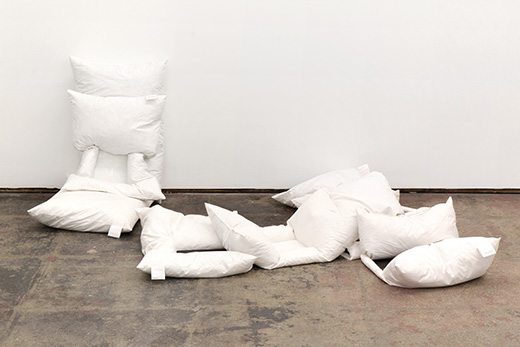 Rachal Bradley
MEGA-dérive (black and white version),
 2014
Photo-etchings, housewife pillows, steel etching plates
Dimensions variable
Rachal Bradley
MEGA-dérive (black and white version),
 2014
Photo-etchings, housewife pillows, steel etching plates
Dimensions variable
Detail
Rachal Bradley
MEGA-dérive (black and white version),
 2014
Photo-etchings, housewife pillows, steel etching plates
Dimensions variable
Detail
Installation view, 2014
Installation view, 2014
Marie Lund
Casts
, 2013
Plaster
18 x 28 x 10cm
Marie Lund
Casts
, 2014
Plaster
19 x 30 x 14cm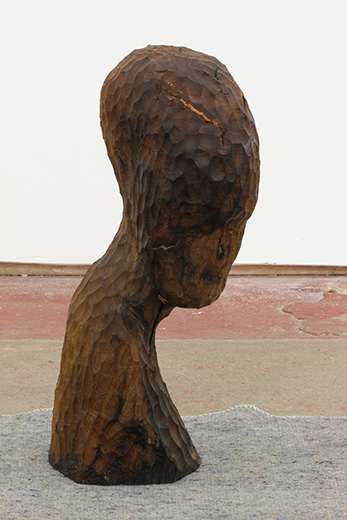 Marie Lund
The Very White Marbles
, 2014
Carved found sculpture, wood
58 x 28 x 27cm
Installation view, 2014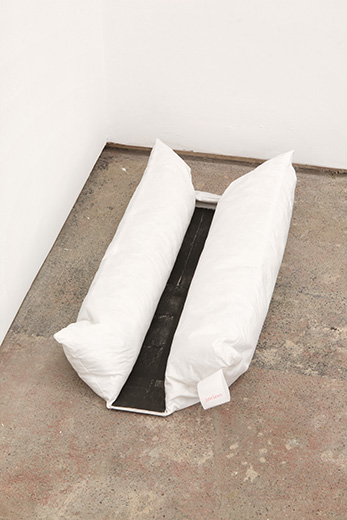 Rachal Bradley
MEGA-dérive (black and white version),
 2014
Photo-etchings, housewife pillows, steel etching plates
Dimensions variable
Detail