17
th
February – 27
th
March 2010
New Display Strategies present 'What's in it for me?', an alternative history of exhibitions, artefacts, artists, their public and the few that buy things.
New Display Strategies is a think-tank formed in 2008 to generate creative strategies for exhibiting cultural artefacts in an age of academic and corporate collaboration. NDS pride themselves on dislocating a culture via its representative artefacts and their means of display. NDS's charge is to re-edit history from their position of pantheistic ornate excess; in doing so producing rich masterplans that can sustain complex and successful institutions.
What's in it for me? is part of NDS's ongoing historical reading of the decorative arts over the past 5000 years. NDS will map out their alternative history for artists and craftspeople marked by a sustained examination of their interaction with social, intellectual and divine elites. The pyramid, both a symbol of society and as a space ship/celestial vehicle, is a dominant motif in their research. Via pyramidal projection, the viewer will be transported from ancient Egypt to the literati of the enlightenment, making a brief stop with the doomed l'honnête hommes of the French aristocracy, before finishing amidst the brouhaha of post-modern furniture design.
What's in it for me? celebrates a longstanding cross-cultural heritage of exploitation in the creation of public culture and decorative art, exploring how power has shaped and determined artistic production throughout history and how this age-old tradition of cultural exploitation is painstakingly maintained to this day. As Marshall McLuhan once said: "good taste is the refuge for the witless".
From the sans-culottes to the sans-papier, New Display Strategies takes a sans limites approach to the roles of the haves and have-nots in cultural production.
/////////////////
What's in it for me? extends and enhances themes explored in NDS's previous presentations at Auto Italia South East and the John Jones Project Space.
/////////////////
New Display Strategies: What's in it for me?  Is the eighth exhibition in an ongoing programme curated for Seventeen's basement space by Paul Pieroni. The exhibition will run concurrently with Graham Dolphin's solo exhibition Burn Away Fade Out in the main space.
1 The title of a collaboratively authored text produced by New Display Strategies in 2008. This text can be downloaded as a PDF from the gallery website.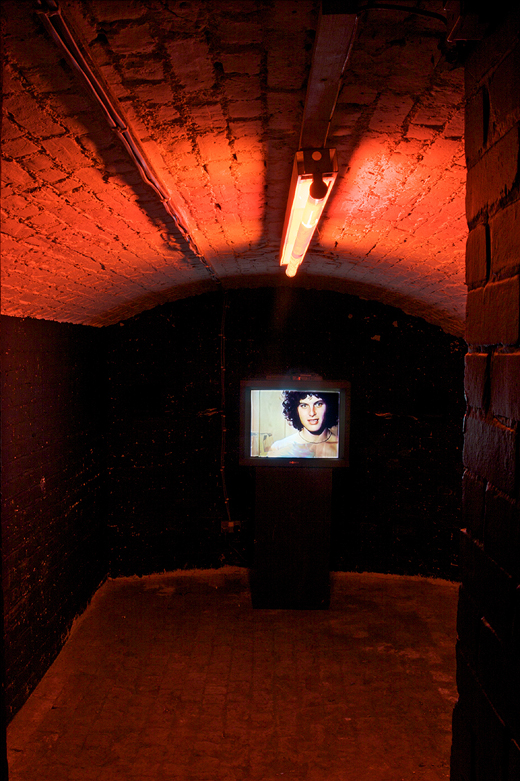 Banned Calvin Klein Advert
, 2010 (Installation View)
Dimensions Variable
Single channel video, sound
3mins

Historicisation Station, 2010
Laminated board, salt dough

Spaceship Pyramid, 2010
Chipboard and plywood structure, single channel video, sound
11mins
Spaceship Pyramid
, 2010
Chipboard and plywood structure, single channel video, sound
11mins

Kugelhupf tower (like eating only cake), 2010
Laminated board, Kugelhupf, icing