Recent projects include Prosu(u)mer at EKKM, Tallinn, London, A Shared Space of Difference, Camden Arts Centre, London, PPE, or It is Spring and I am Blind, Modern Art Oxford and staging Brief Interviews with Hideous Men with Andy Holden, ICA, London and Arnolfini, Bristol. Recent group projects include; Gesamtzusammenhang at Kunst Halle Sankt Gallen, Emotional Supply Chains at 176 and Performance Capture at Stedelijk Museum, Amsterdam. Conroy was Performance Writer in Residence at Camden Art Centre, London, part of Futurecamp at Wysing, Cambridge in 2014 and the Zabludowicz Collection Residency, Las Vegas in 2015 His performances have been presented at Stedelijk, Amsterdam, Chisenhale, London, Nottingham Contemporary, David Roberts Art Foundation, London and Tate Britain.
Biography
David Raymond Conroy Selected Press
Seventeen Exhibitions:
David Conroy
A Plea for Tenderness
Octet
It was a Part of it Before. And Now.
David Raymond Conroy, (You (People) Are All The Same) – Episode 1, 2016
Single channel video
9 minutes 46 seconds
(You (People) Are All The Same) emerged from time spent in Las Vegas as part of an artist's residency program in November 2015. Over footage of city streets a female narrator recounts Conroy's attempts to produce a new artwork, one based on encounters with members of the city's homeless population. Using a structure familiar from long-form journalism and podcasts such as Serial and This American Life, the work employs music and narrative to engage with tropes of seduction, compulsion and addiction. The video addresses the moral dilemma of an artist deliberately staging the world they claim to document, and asks if it is possible to be simultaneously a good person and a good artist?
David Raymond Conroy, (You (People) Are All The Same), 2016
Single channel video with sound
Installation view at Emotional Supply Chains, Zabludowicz Collection, London (2016). Curated by Paul Luckraft
David Raymond Conroy, Sometimes I wish I could just disappear, 2009
Digital photo frame, slideshow of 50 eBay images
15 x 19 cm
David Raymond Conroy, Sometimes I wish I could just disappear, 2009
Digital photo frame, slideshow of 50 eBay images
15 x 19 cm

David Raymond Conroy, Sometimes I wish I could just disappear, 2009
Digital photo frame, slideshow of 50 eBay images
15 x 19 cm

David Raymond Conroy, 2010 – 2014, 2015
Artist's clothes, artist's books, wood, privacy film, Parker Knoll chair, Le Corbusier LC4 table, vase, dried flowers
Production and Marketing, 2014/15
Single channel HD video
7 mins
Untitled (Red, Orange), 1968, Mark Rothko digital printed reproduction on canvas, 172 x 130 cm. Courtesy Daugavpils Mark Rothko Art Centre.
Dehumidifier and tarpaulin skin wall
Installation view of Prosu(u)mer,  EKKM, Tallinn, Estonia, 2015
David Raymond Conroy, Act Natural, 2011 – 12
Video: Hauling
Audio Monologue: It is not the past, but the future that determines
the present
Display Unit: Act natural, or Proposal for a Display Unit
Unique
David Raymond Conroy, 
Yet another example of the porousness of certain borders
, 2012
Stacked second hand objects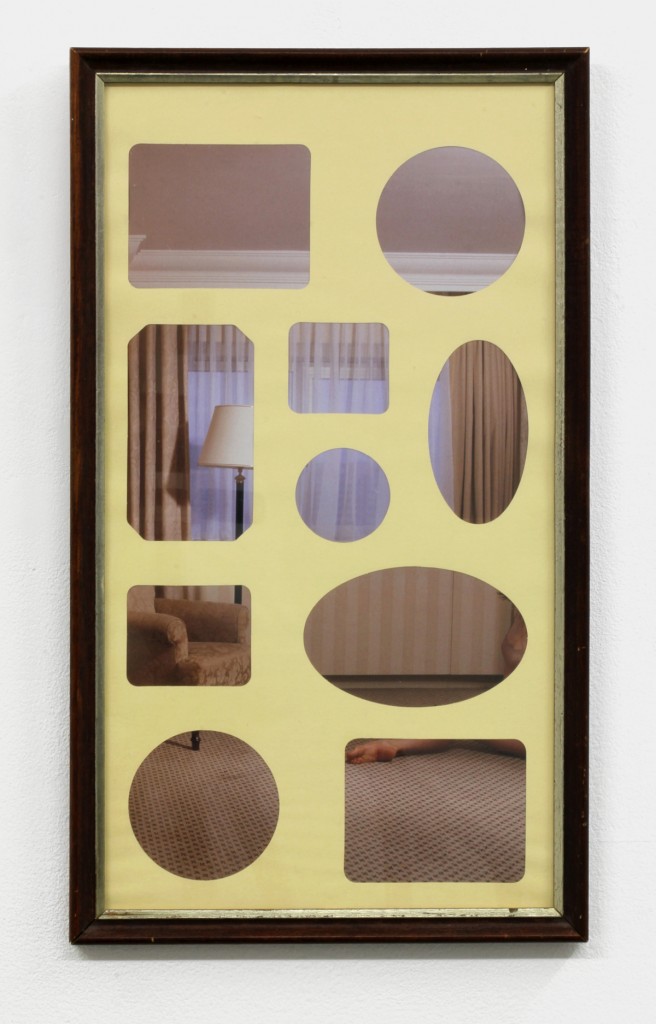 David Raymond Conroy, 
The Contortionist
, 2012
Book page, found frame and mount mat
40 x 20 cm
David Raymond Conroy, Documentary Sculpture, 2012
Found furniture, lcd screen, media player, digital slide show
150 x 70 x 50 cm
David Raymond Conroy, 
He always loved larking
, 2011
Found silver gelatin prints
110 x 130 cm
David Raymond Conroy,
 Yet Another Example of the Porousness of
Certain Borders
, 2010
Mirrored cabinet, steel hot plate base, mirrors, mirrored table,
lamp, carpet
150 x 60 x 45 cm
David Raymond Conroy, 
I Want you
, 2009
Poster, frame
79 x 59 cm
David Raymond Conroy,
 To be of use
, 2009
Framed book page, partially erased
37 x 40.5 cm
David Raymond Conroy,
 The Thing
, 2008
Two posters, drawing pins
125 x 150 cm
David Raymond Conroy,
 I try to forget but it's just a reminder
, 2008
Found drawing, partially erased, mount-mat, frame
96 x 75 cm
David Raymond Conroy, 
Every Girl I've Ever Loved
, 2006
Second hand T-Shirts, shelf

David Raymond Conroy, Broadway flats (For Frank Herron), 2012
Dutch Wax fabric, acrylic paint, wood, hinges, sandbag
240 x 100 x 120 cm each